Regulating work efficiently to meet deadlines is crucial for any business. In order to fulfil this, you should keep your inventory organized and sorted, no matter what your business size is. This is where Inventory Management Software comes in handy!
An inventory management is a process that enables your business to manage inventory in an organized way. It helps your business to meet customer demand, avoid running out of stock and avoid overstocking to save time and money. Also, Keep track of your inventory, sales, orders, as well as deliveries with this amazing system.
You can increase the productiveness of the entire company by utilizing an inventory management system!
Inventory Management System Functions
There are three crucial functions of an inventory management system that you should know:
Better Productivity– This system increases the productivity of your business to a greater extent.
Avoid Overstock and Understock– It ensures your business never stops functioning. This will help you to avoid the scenarios like overstock and understock.
Maintain Quality and Inspect Product– This system is responsible for inspecting quality and managing products. Besides, it manages the inventory of the company in an organized and convenient manner.
Now, let's know the features of the inventory management system!
Also Read:  Software Helps You Find the Best Transportation Method
Significant Features of Inventory Management System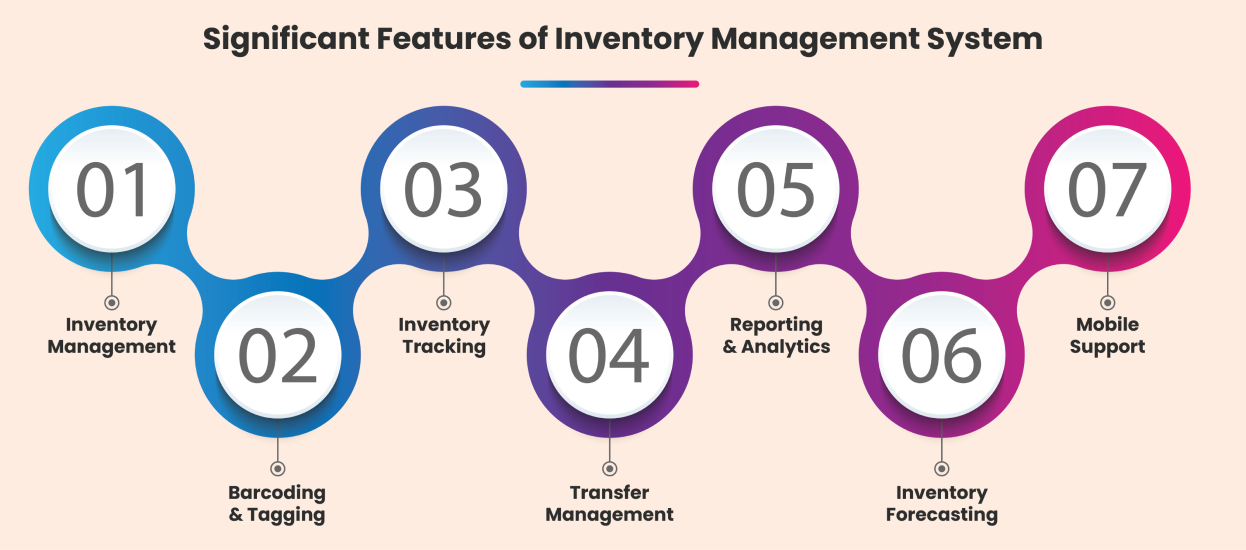 We have curated the list of some crucial features of Inventory Management Software!
Inventory Management
This feature is considered an essential one. It will allow businesses to track inventory in one place means at a centralized location. You can track inventory levels, see product descriptions, availability, shelf management, and many more.
This centralized system enhances productivity and collaboration among other team members. In addition, with the help of a system, you can automate your inventory management process with multiple warehouses.
Below, we have listed the things you can do with this feature:
Product categorization
Measurement of products
Product History
Livestock reports
Vendor management
Cycle counting
Barcoding & Tagging
Barcoding reduces the human error made due to manual data accumulation. Scanning barcodes provide a reliable and fast solution. The barcoding system will improve inventory control and track things like product description and price.
Below, we have listed the things you can do with this feature:
Barcode scan
Get product precise details
Locate products
Record things faster
Quick performance
Inventory management system
Inventory Tracking
Tracking of inventory at every stage is crucial for any business. You can access the updated stock levels or locations that help you to set inventory valuation and count turnover. In addition, you can track your inventory by serial numbers, RFID tags, barcodes, and other tags.
Below, we have listed the things you can do with this feature:
Product tracking
Tagging
Reports and audits
Transfer Management
The more your business grows, the more you have to handle complicated inventory transfer requests. Managing these requests is quite difficult, but it's also essential. But with, the transfer management feature can guide your team to reduce errors and streamline business operations.
Below, we have listed the things you can do with this feature:
Minimize the miscommunication error
Real-time monitoring of assets
Multi-location tracking
Notification and alert
Stock transfer
Reporting & Analytics
If you want to make your business more efficient, you should be updated with real-time data related to your product status, order status, shipment, and many more. Inventory Software comes with all capabilities that integrate the reporting tools and features to make the reporting process easier.
Below, we have listed the things you can do with this feature:
Customized reports
Report integration
Smooth and flawless communication
Dashboard
Inventory Forecasting
It's such an embarrassing situation for companies when their products go out of stock. But an inventory management system allows your business to know what products are out of stock and what products are available in the inventory.
It will also help business owners to invest in inventory smartly and intelligently. Below, we have listed the things you can do with this feature:
Powerful insights
Enhance asset efficiency
Minimize the risk of stock out
Increase in turnover rates
Mobile Support
It doesn't matter how effective your Inventory Software but always ensure that you are able to do it remotely. There are many systems that provide mobile websites, so you can easily access the system from any device.
Always check the company provides you with a native application if you are using tablets, phones, and other mobile devices. So, it's important to always keep this in mind!
Below, we have listed the things you can do with this feature:
24*7 real-time access
Enhance productivity
Reduce paperwork
Real-time data to increase efficiency
Conclusion
Now, you know what features to look for when investing in Inventory Management System Software. First, this will help you to understand what features your organization require. Then, once you have decided on your requirements, you can find the best inventory system!
Genic Solutions provide the best Inventory Management System Software that matches every business requirement. In addition, our software is fully automated, which helps businesses with better inventory control.