We live in a digital world where things happen quickly and due to this the customer relationship management system has become the need of every business. CRM software keeps you on top of your business operations and helps you in providing efficient services. Do you want to find out how CRM software Singapore can make a difference in your business? We will have a deeper insight into CRM software and its benefit for your business in 2022.
What Industry Leaders are saying about CRM Systems for SMEs?
Many industrialists think that the pandemic has greatly influenced the way businesses to run their operations. It has led to an increase in the importance of CRM systems which is likely to continue in the future. CRM system Singapore helps businesses to effectively communicate with clients and increase customer loyalty which will ultimately boost their revenues. It is certainly the best way to provide better customer service and enhance the efficiency of their organisation.
What are a CRM System and Its Uses of It?
A customer relationship management system is a software solution that helps businesses in working efficiently so they can offer better services to clients and build a loyal relationship with them. Its promising features make the communication much more effective among various departments in an organisation so they get work cohesively to achieve business goals. From allowing managers to monitor everything from their mobile phones and automating the sales process to keeping all the important client data stored in a single place, this software will manage everything for you.
Benefits of Using CRM Systems
Customer relationship management software has a benefit for all businesses regardless of their size. Let's have a look at the key benefits of CRM software.
– Efficiently manage and organise your customers data
– Profitability tracking
– Increase revenue
– Improve sales and marketing strategy
– Improve productivity and communication
– Client management
– Targeted lead generation
– Increase customer retention
– Better customer services
– Regulatory compliance
How to Pick the Right CRM Systems for Your Business
Now we know the benefits of customer relationship management software, the next important thing is to know how you can pick the right CRM system for your business. When it comes to choosing software for your organisation, you must be careful and ensure that you get the best software solution tailored to your business needs.
Gather Knowledge about Customer Relationship Management System
Before you integrate CRM software into your business, make sure to gather all the information about this software i.e., How it works? What are the features? What are the major benefits of this software? How will it make difference in your organisation? When you have answers to all these questions, you will certainly get the best CRM for your business.
Budget Considerations
Budget is very important when it comes to choosing the software because the last thing you need is to break the bank. Shortlist the reliable software companies and then choose the ones that are offering software solutions within your budget.
CRM Deployment
Always talk to your vendor about a CRM deployment plan. Find out whether on-premises or cloud CRM would be better for you. Try to go for cloud CRM solutions as they are easy to implement.
Expert Tips on Selecting A CRM for Small Business
Being an owner of a small business means you have a lot going on your plate which means you can never give enough attention to your employees no matter how hard try. That's why small businesses need to invest in software that will reduce the burden on their shoulders by automating their everyday business activities.
CRM for Small Business Use
Today businesses rely on CRM software to manage their everyday tasks, team members, and customers. It ensures better internal communication, optimise your marketing, improves customer satisfaction, and helps your business grow.
For instance, by using CRM for your small business you can stay In touch with your existing and new clients by sending them notifications regularly.
Also Read: Know the Benefits of Outsourcing Custom Software Development in SG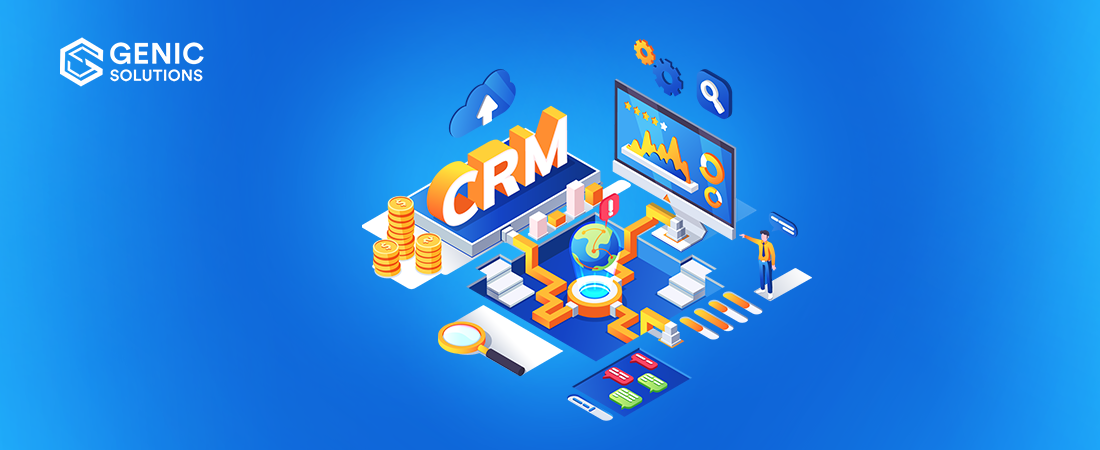 5 Tips on Selecting CRM for Small Businesses
If you want to get the maximum benefit out of CRM software for your business then make sure that you follow the below tips:
Choose a Flexible CRM
The most common mistake made by growing businesses is that they choose CRM based on their current needs. Such software will not address the growing needs of your brand that's why It is important to choose flexible CRM software that will help your business in the long term.
Choose a SaaS-based CRM software
For small and medium businesses, Software-as-a-Service (SaaS) CRM software is the best option because it has multiple benefits.
– Immediate access
– Minimum start-up cost
– Outstanding customer support
– Provider installs software upgrades.
Always Consider Your Budget
CRM Software varies in size and price, so while making a selection make sure to choose a software that addresses your business needs. Make sound decisions and avoid spending on features that you don't need.
Take Advantage of Free Trials
Most professional software companies offer a free 30 day trial for their services. Take advantage of the trial and see if it fits your needs.
Know the Exact Requirement of Your Team
Your team members will use the CRM software the most so make sure to include them in the decision while selecting the features. Ask them about what features they need for efficient working and enhanced productivity.
Conclusion
No matter what type of business you are running, integrating customer relationship management software will make a difference in your everyday activities. If you haven't already invested in CRM software then it's time you should think about bringing this massive transformation to your business. Whether you want to automate your everyday business operations or want to provide great services, CRM system Singapore is the best choice for you.
Genic Solutions offers tech-driven software solutions for SMEs at affordable rates. Feel free to contact us to find out more about our services.