Increasing sales in the HVAC industry is quite tough. As we know, the HVAC industry is competitive, so it can be challenging to stand out and win more customers. This is where Customer Relationship Management Software can make your business sales more profitable and efficient!
This software will also expand your business and improve its sales performance. But how? Basically, CRM software is a powerful tool that allows businesses to manage interactions with potential customers, prospects, and leads. You can easily track customer information, sales leads, and customer communication.
Not only this, there are several benefits of using a CRM system for your business.
Benefits of Using CRM Systems for HVAC Business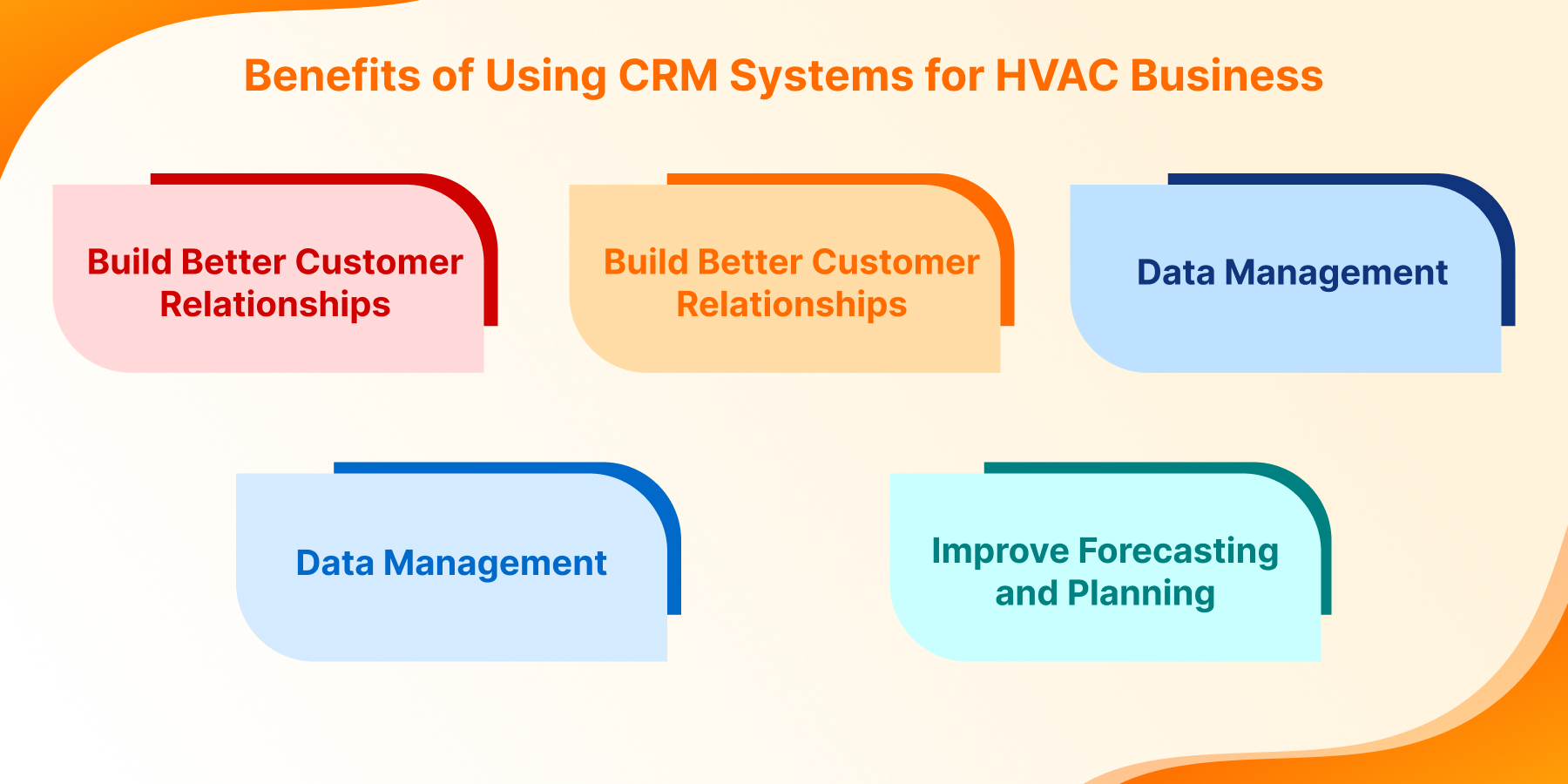 Below, we have curated a list of significant advantages of the CRM system!
Build Better Customer Relationships
CRM system will help your business to improve your customer relationships. You can monitor and examine customer data, including contact details, past purchases, and preferences, using a CRM system. With this information, you can customise your communications with clients and give them a better experience. You can upsell or cross-sell goods and services to clients by, for instance, sending them targeted emails based on their purchasing patterns or preferences.
You can maintain track of customer communications with the aid of a CRM system. You can record conversations with clients over the phone, via email, and in person. As you can look back on earlier conversations to comprehend the customer's concerns, this information can be helpful in resolving customer issues or complaints.
Enhance Sales Productivity
CRM systems can automate tasks and streamline your sales process, helping you increase sales productivity. Like, you can automate follow-up emails to prospects or send reminders to your sales team to follow up on leads. You can also use CRM Solutions Singapore to track the progress of each lead through the sales pipeline, which can help you identify bottlenecks and optimise your sales process.
Your sales tasks can be prioritised with the aid of a CRM system. Like, you could use the system to pinpoint the prospects that are most likely to convert and concentrate your efforts there. The system can also be used to segment your customer base and send tailored marketing communications to particular groups.
Data Management
Having a CRM system can also help you handle your data more effectively. You can organise and manage client data in one place with the aid of a CRM system. This can assist you in avoiding data duplication, consistency issues, and mistakes. In order to conduct successful marketing and sales campaigns, it can also help you maintain your data accurately and up-to-date.
You can gain important insights from your client data with a CRM system. Your marketing and sales strategies can be improved by using the system to monitor customer behaviour, such as purchase history and website activity. The system can also be used to examine your sales data and spot patterns and trends that could lead to increased revenue.
Also Read: Benefits of CRM in Healthcare Industry
Improved Collaboration
A CRM system can improve communication within your HVAC company. You can use the system to share customer information and sales data with your sales team, customer support team, and other departments. This can enhance internal communication and teamwork, which can result in improved customer service and more successful sales tactics.
A CRM system can be used to work together with outside collaborators, such as vendors or contractors. To better manage your relationships with these partners, you can use the system to monitor order progress or share project information.
Improve Forecasting and Planning
CRM Solutions Singapore can also assist you in forecasting and planning better. You can spot patterns and trends that will enable you to forecast future sales and make the necessary preparations by monitoring your sales data and client behaviour. In order to more efficiently plan your sales activities and resources more, you can also use the system to monitor your sales pipeline and spot potential sales opportunities.
Conclusion
A CRM is essential for your HVAC business; it will help your business stand out from the competition and win more potential customers. Using CRM software in the right way will bring abundant benefits to your business.
But choosing the right one is difficult. So, it would be best if you consider your specific goals and needs when selecting the CRM software. Genic Solutions provides you with the best customer relationship management software that is customisable, scalable, and easy to use. Our system integrates with your existing software and technology. If you want to know more about the CRM system, connect with our team!