As per the latest stats, the global healthcare industry is expected to reach more than $665.37 billion by 2028. When the healthcare sector is expanding continuously, the need for patient management is also growing. This is where you should integrate CRM in Healthcare!
But there are many hospitals that are not able to manage the queries and concerns of patients online. On the other side, there are many hospitals that have already started to integrate an automated CRM system in their business process.
Many people think that implementing a CRM in the healthcare industry is hard. But actually, they are not fully aware of the healthcare CRM. Their lack of knowledge makes it harder for them.
First, understand what is healthcare CRM system?
A healthcare CRM is designed for medical businesses like hospitals, medical centres, clinics, labs, and others. You can manage all your practices, such as managing patients' medical history, bills, and visits, and schedule appointments through CRM online interface.
With the help of this software, you can maintain a track record of patients, doctors and other medical professionals' contact details as well as referral networks.
Now, let's get to know the significant benefits of acquiring a CRM system for the healthcare industry!
Benefits of Acquiring CRM System for Healthcare Industry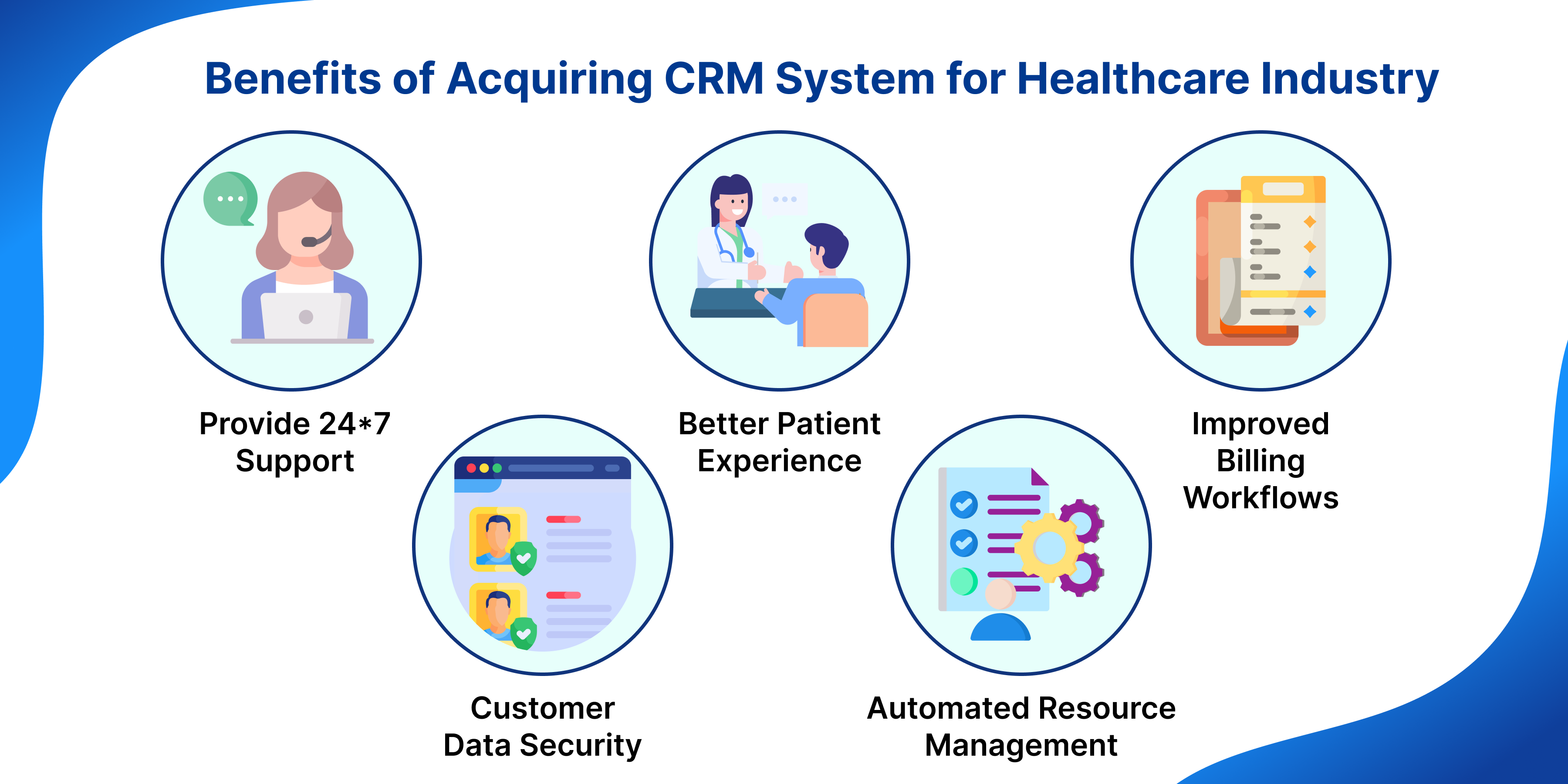 CRM software brings multiple benefits in many ways to the healthcare industry. Below, we have curated the list of some significant benefits of the CRM system:
Automated Resource Management
This software allows you to provide a suitable appointment slot for a particular specialist. It suggests considering the location and nature of the appointment. It will also help you to reschedule the appointments of patients. Not only this, but you can also send notifications to patients about their appointment.
Better Patient Experience
This system automates the reminders and reschedules appointments if patients are not able to attend. It also keeps a record of patient crucial details like gender, birth date, and so on. With the help of this data, the software can remind people about medication and discount offers and wish them on their birthdays.
Provide 24*7 Support
As we know, human professionals are not available for patients most of the time. But with the help of integrated CRM software into the system, it provides CRM chatbots that can attend to patients 24*7. As a result, your customers will start receiving timely responses. Moreover, when you offer this kind of support to your patients, it will help you to build an excellent image.
If you want to provide high-quality customer support, utilize the CRM system. This software provides some features like live chat support, automatic follow-up, and marketing automation. In addition, it can solve patients' queries and share basic healthcare recommendations.
Customer Data Security
Data security is an essential concern for both patients and medical organizations. If their patient data leaks, it will affect their image, and patients will lose trust. CRM Solutions Singapore provide advanced data security. The software allows you to decide who can access or who cannot and to what extent.
The data can only be accessible by pre-assigned and selected staff. The software also performs backups on time.
Improved Billing Workflows
A CRM system will keep and update the payment details of patients to generate bills. In addition, it can provide you with an analytical tool that helps you to track payments in real-time. With the help of this tool, it enables healthcare facilities to schedule reminders for patients whose payments are not on time.
You can also get access to all the payment information of patients. It includes many details such as how many transactions were paid, which gateway of payment was used, when transactions were made, and many more.
Conclusion
Now, you know how beneficial CRM Software for Healthcare industry. With CRM integration, a healthcare organization is able to serve patients in a more better and time-efficient way.
But you can take advantage of all benefits when you have one of the best CRM Solutions Singapore. Genic Solutions provide efficient CRM solution that meets all your business requirements. It comes with advanced tools that make it easier for an organization to improve customer service, increase sales, gain potential leads, and provide data to the team they require. Get the finest functionality of CRM Software for Healthcare industry!