Suppose your business is growing and generating more sales every day. Do you have the capacity to keep up with your deliveries? If you are not efficient in making timely deliveries, it will harm your business, that's why it is extremely crucial to have a system that will streamline your delivery management process and ensure an excellent customer experience. Delivery management software is specially designed to automate order management for businesses. It saves your time, ensures faster deliveries, keeps your customers happy, reduces your fuel costs, manages your drivers effectively, and much more.
Do you have any doubts about the capability of the delivery management system? In this blog, we will discuss how incorporating this software into your business will increase revenue and improve customer services.
Introduction with Genic Delivery Management Software
Genic DMS is easy to use delivery management system which is ideal for planning, scheduling, dispatching, and optimising everyday activities. This highly functional software allows you to monitor your deliveries in real-time, optimise the route for your drivers to save fuel, store electronic proof of delivery, and provide tracking details to the customers.
When you have this software in place, the overall coordination and communication are improved between your team members which makes the deliveries much quicker, transparent and efficient. From getting the order to ensuring doorstep delivery, our DMS will help you throughout the process.
The promising features of Genic DMS Will keep you ahead of your competitors and improve the quality of your delivery operations.
Also Read: Delivery Management Software – Automate Deliveries to Eliminate the Hassle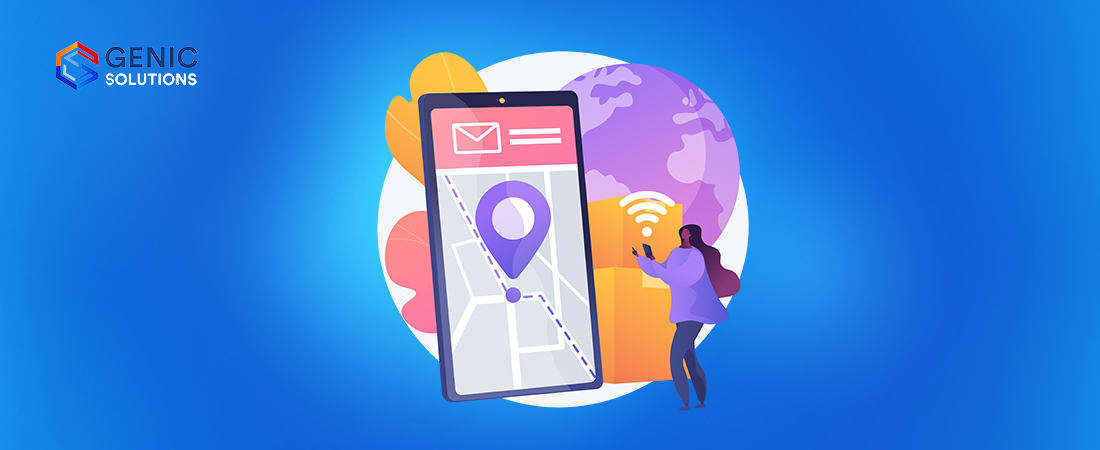 Features of the Delivery Management System
A delivery management system works best for all types of organizations regardless of their size or field. Let's take a look at some of the features that will maximize the efficiency of your everyday operations.
Accurate Delivery Management
The paper-based delivery system not only frustrates your employees but also leads to the loss of many important documents. Whereas delivery management software brings accuracy and enhances the overall efficiency of the delivery management process. It ensures better connectivity and communication among various departments to ensure the smooth delivery of an order. Managers can easily control all the functionalities with ease from anywhere without stress. Similarly, it also improves communication with the customers by keeping them updated about their order progress.
Vehicle tracking
Managing drivers and assigning them tasks based on their availability is a time-consuming job that leads to unwanted errors, and wastage of money and resources, especially if it is done manually. On the other hand, if you rely on delivery management software you can track your drivers in real-time, monitor the time taken to make a delivery, and available slots.
When managers constantly monitor vehicles, they can certainly eliminate unnecessary delays by reassigning deliveries to the driver closer to that particular location.
Manage Drivers
When your business grows in size, you will require a larger team to manage your business operations. As your team grows, it will become challenging to keep up with every team member. Managing team members especially drivers is a time-consuming job and if you lack efficient coordination with them, it will ultimately lead to delivery delays.
Delivery management software is specifically designed to streamline your delivery process. It makes it easier for managers to coordinate with drivers in the field, access their information, and track them in real-time.
Mobile App for Notifications
The mobile app for the delivery management system improves your communication with your drivers and customers. If your drivers have the necessary customer information only then they can ensure timely delivery. When you have the Genic DMS mobile app, your drivers can access information at any time. It also cuts the communication gap by informing the delivery person with specific instructions regarding a particular order so the customer sentiments are not affected.
Even managers sitting back at the office will be notified at every step through the mobile app, till the order is finally received by the customer.
Reduce Delivery Time with Delivery Scheduling
No matter how much staff you hire to manage your sales and orders, it will only cause you trouble, and waste your money. It is because manual entries are full of errors and delays Which will have a negative impact on your business image. That's why it is important to switch to software that automates the task, reduces operational costs, eliminates the chance of discrepancies, and saves your time. When you are efficient with your business activities, you can provide exceptional customer service and achieve your goals efficiently.
Reduce Fuel Costs
Are you spending a large amount of money on fuel? It's probably because your drivers don't take the shortest, and optimise routes to deliver your orders. If you switch to delivery management software it will automatically calculate the optimised, and shortest possible route free of traffic to cut down your fuel costs.
Moreover, this software will automatically send notifications to your customers when the driver is nearby to ensure that somebody will be home to receive the order otherwise your driver will have to return to redeliver.
Electronic Proof of Delivery
Proof of delivery is important to ensure that the package is successfully received by the customer. Delivery management software generates. electronic proof of delivery which cut the need for unwanted paperwork improves on-site operational efficiency, boosts customer retention and satisfaction, optimises workflow productivity, and much more. Once your driver has completed the delivery, it instantly sends a confirmation notification to the office and the customer.
Calendar View of Deliveries
Managing and organizing everyday orders is hard and even slight negligence will lead to unhappy customers. But with delivery management software, you can organise, and reorganise your every day delivery schedules depending on the availability of your drivers and other resources. When you keep a calendar view of your daily delivery activities it will eliminate any chance of error. You can also notify your drivers about any update in their schedule through the mobile app.
Keep Customers Happy By Managing the Whole Delivery Process
Today the customer demand has greatly increased and if you want to keep up with their expectations then you need to invest in software that automates the whole process and facilitates your users. With the DMS, you can manage your delivery operations from anywhere. Moreover, it allows you to keep everyone in the loop which saves your time and money.
If you put extra effort provide better services, it will ultimately strengthen your relationship with your clients. For instance, if you notify your customers at every step regarding the progress of their order, they will be highly satisfied with your services.
Summary
Investing in a delivery management system will have long-term benefits for your business. It keeps you stress-free by streamlining your delivery operations so you can spend more time on the growth of the business. So what are you waiting for? It's time that you should start looking for delivery management software Singapore, for your last-mile deliveries.
Need help with finding the right delivery management system Singapore? Genic Solutions is here to rescue. Contact us now to find out more about how Genic DMS is a must-have software for your business.