Running a successful business is all about creating a strong relationship with your customers, and to achieve that you must have a strong inventory management system. A common challenge faced by a growing business is inventory. When a business began to grow, keeping up with inventory manually becomes a challenging task. Is your business prepared enough to withstand challenging times? It's time to think big. Your business must have sufficient inventory at the back-end to stand any challenges and your inventory system must be capable.
If you still depend on manual inventory, keep in mind there are greater chances of error which then leads to a loss in business. In this blog, we will discuss how inventory can be beneficial and how you can choose the right one for your business.
What is an inventory management system?
The inventory management system is used for keeping records of your production, sales, and current stock. In other words, it is a management system that helps you in organizing your products and give an idea about your clients need.
Inventory management involves the use of the latest software to keep up with inventory records. Through this software, you can know about the current status of your stock i.e., its movement from production to warehouse, or any other point. Furthermore, you can track your stock present in specific portions or entire chains.
Why do you need an inventory system?
If your business is growing rapidly or you wish to expand your business in the future, then an inventory system is what you need. It is a cost-effective way, to fulfill all your business operations efficiently and can keep in check of your finances, and stock. It allows you to provide better customer service.
Following are some of the reasons why you need an inventory system.
Cost control
Having an efficient inventory system enables you to get a clear idea about runny items, and the ones that just take up shelf space. Thus, preventing you from having excessive inventory and saving your cost.
Often, the reason for late deliveries is the absence of that item in stock. But if you have an inventory system, you can track when that item will arrive and can keep up with the customer's delivery expectation.
Manual inventory is frustrating and requires a lot of time. With an efficient inventory system, you will never have to spend hours tracking the status of your stock.
Basic inventory management software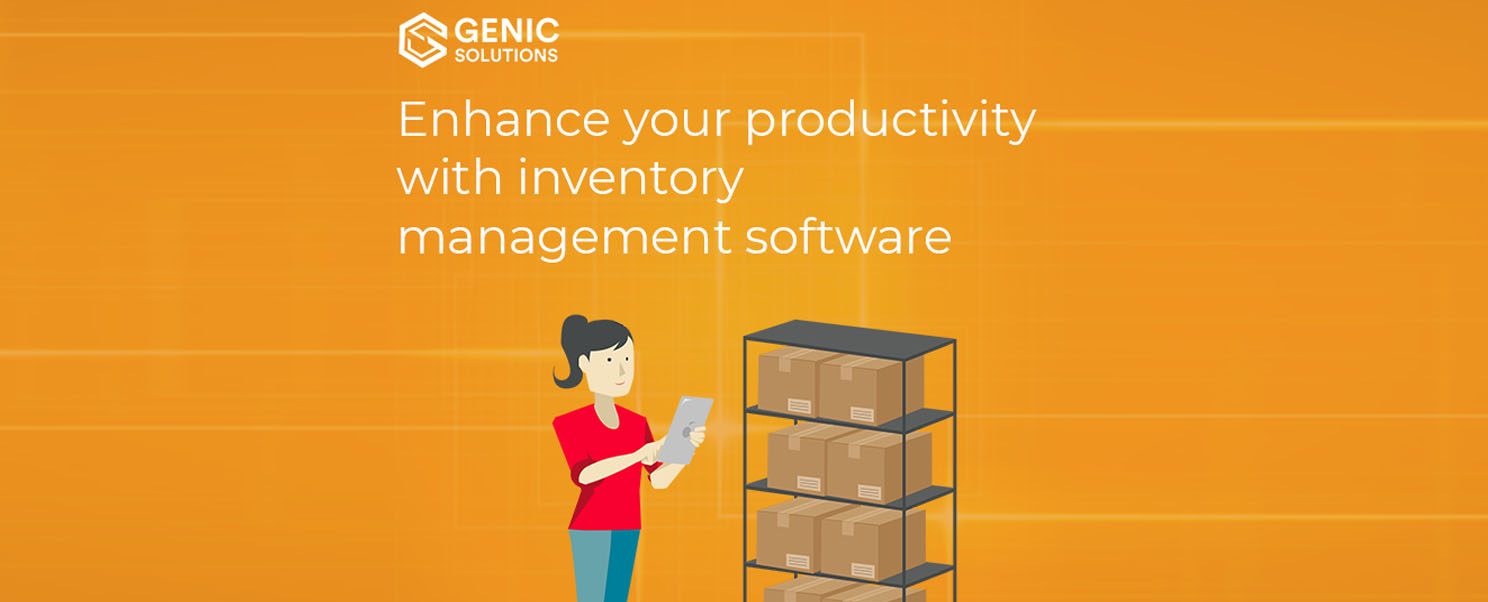 Inventory management system software has promising benefits for your business.
Inventory tracking
An inventory management system helps you in keeping track of how much stock you own. It also eliminates the chance of any theft or loss.
Once you get the idea, it will be easier for you to restock before anything goes out of stock creating inconvenience for your clients.
Reordering
The reordering is dependent on the current inventory, as you may not want to order items in excess or too little. It can only happen if you have a clear idea about your current stock.
Placing orders timely before the product gets out of stock is also a crucial factor as it prevents delays in deliveries.
Accounting integration
Inventory management software helps you be aware of your accounts and financial status. It is crucial for your business as it keeps you updated on whether you are going in profit or loss.
What are the key features to look for in inventory management software?
Have you made up your mind already to get an inventory management system for small your business but don't know what key features you should look for in the software?
Well, here we will discuss some of the key features that will help your small business.
Track inventory and value
Track inventory is the most essential feature you should look for in an inventory management system for small businesses. It tells you about where you stand with your inventory, reflects your inventory movements, sales order, consignment stock, and production reserve components.
Inventory value refers to the financial worth of the stock. An efficient software tells accurate inventory values, cost consumed in production wastage and delivery fee, sold goods, and profit margins.
Inventory management software must have the option to set automatic alerts to keep you updated about the low stock item. Moreover, it must also generate reorder reports about everything that is running out of stock. This is will help you in placing the order on time.
The software must manage all your purchasing activities i.e., autofill purchase orders, store information of suppliers, transaction history, and purchase receipt.
The sole purpose of getting software for your business is to make operations run smoothly, so ensure to choose the software that provides you monthly inventory reports.
Benefits of using inventory management software
Here are the Benefits of using inventory management software:
Efficient inventory
Inventory management software makes handling inventory a lot easier and simplified. You can keep track of your inventory eliminating the chance of error.
Eliminate chances of overselling
It is important especially if you run an online business. The software links your orders and inventory across all your online selling platforms and ensures to keep your stock level adjusted.
Increased savings
By giving you a clear idea about your stock, it prevents you from investing in the least selling items thus saving your costs in the long run.
Balanced stock
It helps you check and balance your stock i.e., send alerts when an item is running low in stock, so you reorder it on time and ensure a good user experience.
Better business negotiations and profits
A software that offers holds all the information about the supplier, helps you in understanding which supplier is most suited for your business. It also assists in doing favorable trading negotiations with your supplier.
Why is inventory management software important?
For your business to run smoothly, inventory management software is very important. If you have a well-managed inventory system it will create a positive impact on your firm in the business world. This software has benefits for all such as manufacturer, retailer, distributor, etc. being an Inventory management software company, we bring you software that will increase the productivity of your business and makes things easier for you. It's time to say goodbye to all the frustrating paperwork by making the right selection for your business today.
Is inventory management software worth the investment?
Keeping in view all the importance of inventory management software, we think it is worth your investment. The inventory system is gaining popularity in the business world, as almost all businesses either small or large are shifting towards inventory management software to have a better grip on their records and accounts. Moreover, this software tells you about the trends i.e., the product that is top on the selling list from past years, and it also makes predictions about future trends.
Make the much-needed investment now and see how software can do wonders. Let us know how we can help you!